Kat Edmonson
Friday, October 18 at 9:30 pm

-

10:45 pm

$40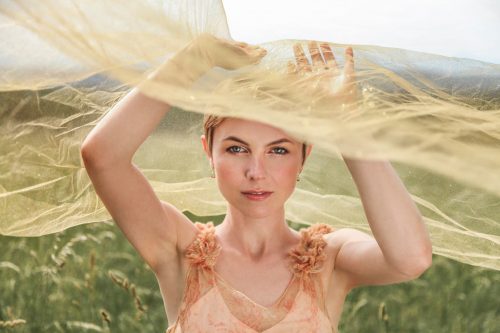 Airwaves in the jazz world are jammed with recordings by countless performers…all delivering their take on selections from The Great American Songbook. Some find themselves in the circle of jazz greats, past and present. Many do not. On occasion, a vocalist emerges that stands out among the others. Even rarer, the vocalist would emerge performing songs that are not remakes of Jazz Standards, but rather, freshly penned in their own hand…from their own heart and mind.
So comes such an Artist, in the form of a demure, petite, pixie of girl….Kat Edmonson. She is the Songwriter/Vocalist of ALL the songs form her most recent album release, titled – 'Old Fashioned Gal'. And, she is our Friday Night Headliner this October 18th, appearing backed by her Quartet in 2 Shows for 2019's 7th Annual True Blue Jazz Festival.
Artistic Director, Peggy Raley, of True Blue Jazz recalls her fortunate introduction to Kat Edmonson at a private House Party back in 2018. Peggy relates the entertainment treat she enjoyed that evening like this, "She came out of nowhere for me. Kat is an unexpected surprise all the way around….all at once dreamy and sophisticated, playful & wicked smart. Kat knocked me over with a feather…and then some!"
It was very clear that Peggy Raley wanted to bring Kat Edmonson to the True Blue Jazz Stage for our Straight Ahead Jazz Audiences. All of them fans who embrace the music of The Great American Songbook.
This October 18th for 2 Shows….ONLY at The Boardwalk Plaza Hotel Showroom of 2019's 7th Annual True Blue Jazz Festival… prepare to drink in the enchantment of this very special songstress, performing songs of her own imagination & design. Amazingly…you'll be musically transported to another time by this 'Rising Star' Performer. Kat writes songs with an 'old- timey' feel. She crafts tunes with an old soul, and delivers with spark, humor, and heart.
Associated Press • "Kat Edmonson's Old Fashioned Gal sounds like an alternate soundtrack to an Audrey Hepburn film, 11 self-penned songs of gentle romance and vulnerability in a decades-old style sparkling with modern sensibilities… and then there's her voice. Part bashful debutante, part starry-eyed fiancée, part world-wise seductress, it possesses a singular expressiveness."
The New York Times • "Ms. Edmonson presents a vision of her art that is steely in it's resolve, with an equal foothold in jazz, cabaret and vintage cosmopolitan pop."
Diandra Reviews It All • "….She was a Millennial songstress living her cabaret dreams…"
Glide Magazine • "Edmonson has a gift for suggesting she's both seductive and sentimental, thanks in large part to her knowing glance. Strings and piano provide adroit accompaniment, but it's Edmonson herself who steals the show."
More Information:
WEBLINKS:
katedmonson.com
youtu.be/CnsB4Ri2oIY