'1st Thursdays' at Nassau Valley Vineyards • DENISE KING
Thursday, June 1 at 7:00 pm

-

8:30 pm

$30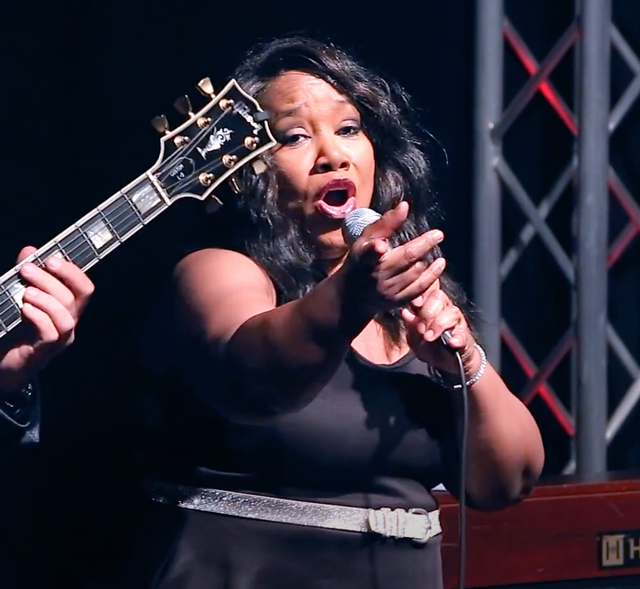 "Denise King sings pop and jazz standards with touches of the blues, soul and even gospel in a voice steeped in a sophisticated, swinging, sometimes soulful, satin style much like one of her idols, Sarah Vaughan." • Donald True Van Deusen, All About Jazz
International Recording & Touring Artist, Denise King, will kick off True Blue Jazz "1st Thursdays" series at Nassau Valley Vineyards in Lewes, DE. True Blue Jazz is delighted to bring our dear friend back to our bandstand just before she departs for her summer European Tour.
One day a shy girl from Philadelphia, PA, was sweeping her front stoop and sweetly singing "Summertime" when a guitarist/writer from Philadelphia International Records walked by and heard her singing. He was so impressed by what he heard that he auditioned her, hired her and the rest is history. That was the beginning of a singing career that would WOW people in Brazil, France, Africa, Japan, Turkey, and other places around the world.
With no formal vocal instruction, it's apparent that she was born to sing. She was introduced to Jazz at age twelve by an uncle who had an extensive collection of Jazz LP's. Her "studies" involved hours of listening to the Jazz greats, both vocalists and instrumentalists. Denise borrowed phrasing styles from Sarah Vaughan, Ella Fitzgerald, Nat "King" Cole and Frank Sinatra. She gained an appreciation for lyrics from Lil Jimmy Scott, Nancy Wilson, Carmen McCrae and Nina Simone.
With the help of Sam Reed, sax man and leader of the legendary Uptown Theater Orchestra she overcame her stage fright. Her early experiences involved sharing the stage with many legends, Butch Ballard, Arthur Harper, Sam Dougherty, Cecil Payne, Jymie Merritt, Bootsie Barnes, Lex Humphries and many more. They taught her the importance of having something to say every time she stepped up to the microphone.
Denise King is a keeper of the flame…she holds the preservation and presentation of the traditional style of Jazz singing close to her heart. No gimmicks, no pyrotechnics, just an intense focus on the melody and the lyrical content. It is this philosophy that finds her in Paris, Italy, Israel, Turkey, Switzerland, Dubai and all points in between, acting as the Ambassadress for the nostalgic sounds of Jazz.
Master pianist, Aaron Graves, joins Denise as her musical director. An evening with Aaron Graves at the piano is one of the best evenings you'll spend anywhere. He joined by a formidable ensemble of Philadelphia Jazz musicians; Nimrod Speaks on bass, Khary Shaheed on drums and Bill Murray on sax.
Tickets are $30. Showtime is 7:00-8:30PM. Doors open at 5:30PM for drinks and dinner service. A la carte dinner available from Mermaid's Kitchen.