2018 True Blue Jazz Brunch Bash
Sunday, October 14, 2018 at 11:00 am

-

2:30 pm

$55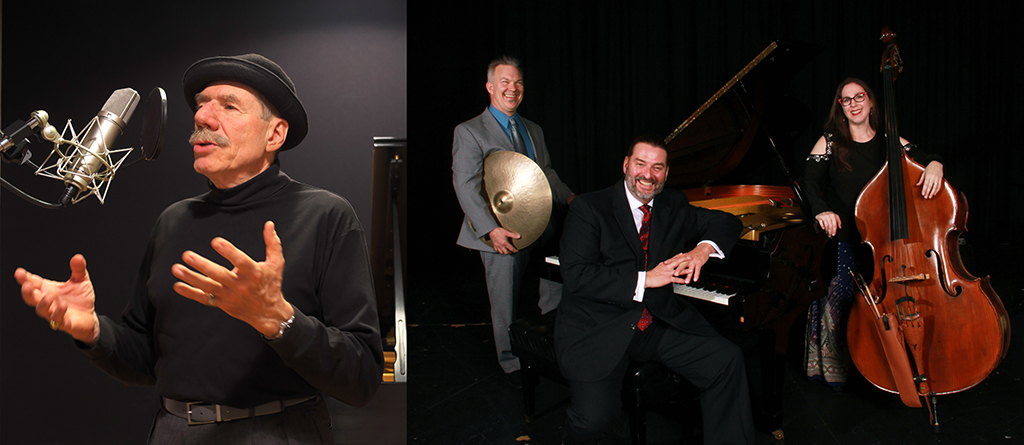 The 2018 TRUE BLUE JAZZ…a Sunday Jazz Brunch with the best view on the Atlantic Ocean & Rehoboth Boardwalk available! Returning to True Blue Jazz once again for 2018, we have The Fred Hughes Trio with special Guest Artist, Giacomo Gates.
Mr. G. Gates is a Rogue of the Road, a Jazz Troubadour…he is Worldly Wise, the Grand Master of Scat & Vocalese, & the Boss of Baritone Bravado. But don't take our word on this….
"This unequaled vocalese master is a hipster's hipster and a story teller's story teller. He's Lord Buckley and Professor Irwin Cory by way of Eddie Jefferson and Jon Hendricks. Captivating, entertaining, amusing and oh so musical…" 'Where did this cat come from? He's absolutely phenomenal!'
– Frank Malfitano, Exec. Director, Detroit/Ford Jazz Festival
"Gates is one of the most extraordinary singers working in jazz today, the owner of a joyful baritone who has synthesized a host of influences – Eddie Jefferson, Jon Hendricks and Sinatra among them – and turned them into something uniquely his own."
– Glenn Whipp, LA Daily News
"Not many people can master this music, but Giacomo Gates has. He's an important man."
– Jon Hendricks, Sunday NY Times Feature
"Giacomo Gates is one of the top male jazz singers around today. His scat singing, use of Vocalese and bebop attitude plant him as a successor to Eddie Jefferson, King Pleasure and Dave Lambert."
– Scott Yanow, LA Jazz Scene
"I have enjoyed hearing your new CD "Centerpiece." It's so refreshing to actually hear the words and understand the lyrics, all to a swinging beat."
– Dave Brubeck
Giacomo Gates does more than sing "a bunch of songs." He is truly an entertainer, for all ages and styles, as audiences enjoy the music, the interaction on the bandstand between him and his musicians, the spontaneity, the humor, the stories about the music and composers, along with their relation to everyday life. People are smiling, having a good time, while thoroughly enjoying the music. What usually lacks in most of today's performances is obviously present … fun!
Giacomo is heavily committed to education, and teaches at Wesleyan University, as well as Sacred Heart University. Mr. Gates has conducted workshops and residencies at numerous educational institutions all over the U.S.
Like all seriously committed jazz artists, Giacomo Gates is a student of the music's great legacy. Known for his interaction with his live audience through witty patter and informative introductions, every performance becomes a lesson in jazz history.
One lesson that every great Vocalist can share with you…ALWAYS find yourself standing in front of an awesomely talented band. On this occasion, Giacomo Gates has accomplished exactly that! With the Fred Hughes Trio you have 3 of the most immensely talented Jazz Musicians that can be had…anywhere!
Amy Shook on the Bass, Frank Russo behind the Drums, & Fred Hughes at the Piano is truly an elegant force of musical nature! From the most nuanced, emotion laced ballad…to a rhythmically Intricate & driving jazz piece…this is a Trio that knows how to support a Vocalist.
The Fred Hughes Trio's eighth recording, Matrix, is received critical acclaim, including this from Amazon.com: "The Fred Hughes trio delivers a stunning formula that will leave you humming the tunes long after the disc is done playing." Matrix debuted at number 4 on the CMJ Jazz Radio Chart. And, the recording spent 5 weeks in the #1 spot on the Top 50 Jazz Album Chart at Roots Music Report.
The Trio dominates the Annapolis to DC area Jazz Scene in performances at Clubs & Event Venues. Fred Hughes himself is a Master at the Piano, a Composer, Arranger & Conductor. A lifetime professional Musician, Fred has performed in all fifty states, Canada, Mexico, Japan, Korea and Europe. A sampling of the jazz festivals at which he has performed include the Newport, Montreux, Nice and North Sea Jazz Festivals. He has conducted symphony orchestras to include the Los Angeles Philharmonic, Cincinnati Pops and Chicago Lyric Opera Orchestras.
Come celebrate our 6th Anniversary with us! Don't miss out on what has become a very popular True Blue Jazz tradition! The true Bue jazz brunch Bash is a great way to "Wind Down" with us as we near the wrap up of our 2018 True Blue Jazz Fest! And It's all happening at SALERO…high atop the Henlopen Hotel in Downtown Rehoboth Beach!!!
Brunch & Jazz all in one Ticket Price in one beautiful & freshly renovated venue – SALERO! Get your Tickets now….last years' SALERO Brunch Bash was a Full House!!!