2018 True Blue Jazz Student Workshop/Clinic
Friday, October 12, 2018 at 11:00 am

-

1:00 pm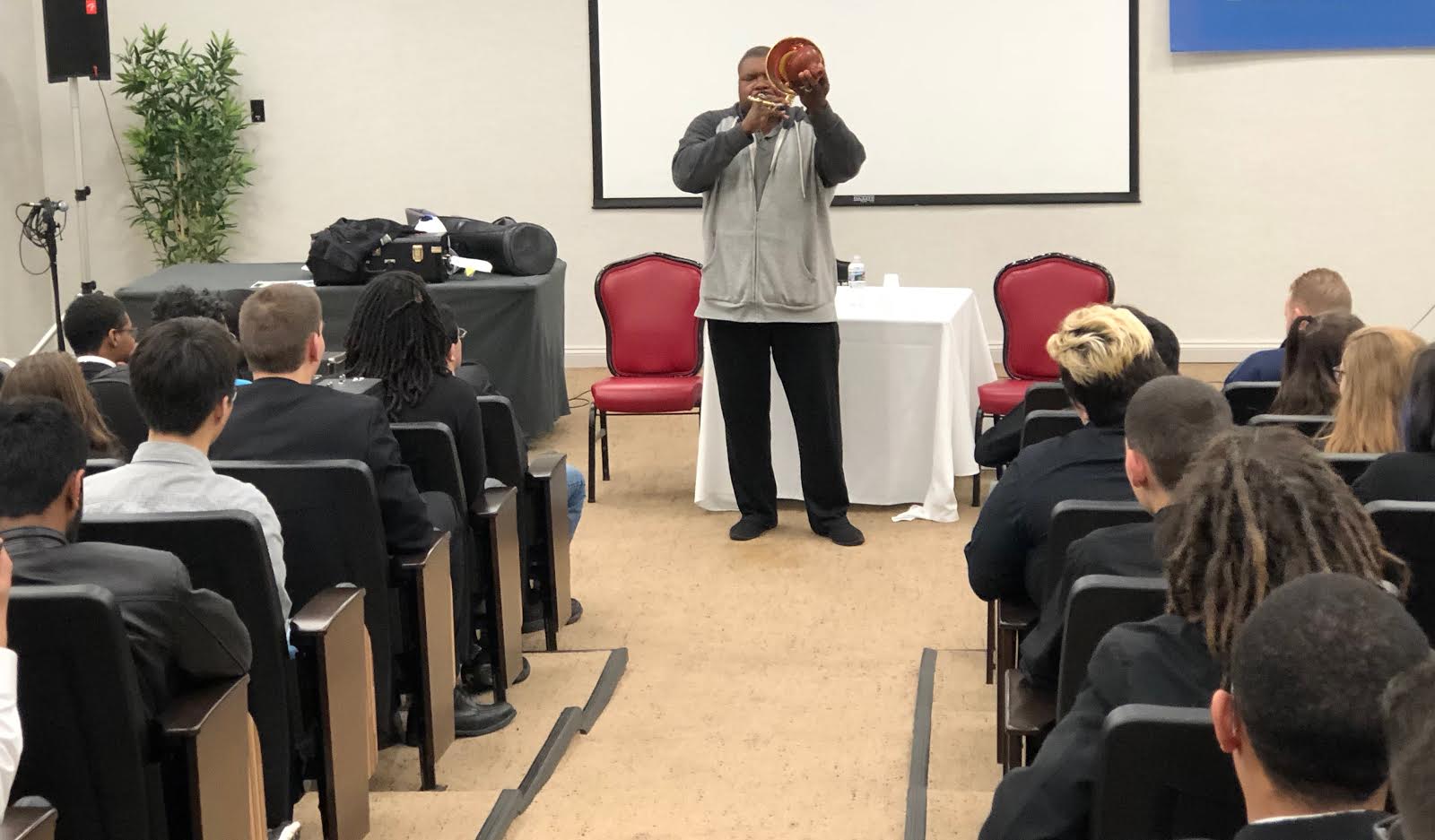 "I've watched the True Blue Jazz organization inspire, encourage and support my students throughout that time. The opportunities and experiences provided by True Blue Jazz have stimulated a life-long love for jazz in the students at Cape and encouraged them to seek personal artistic growth through music. Thank you for everything you do for the students of Cape Henlopen High School and our community as a whole. The Cape Region is a better, more vibrant place because of True Blue Jazz."
– Chris Burkhart / Cape Henlopen HS Music Director
Our commitment and efforts for Young Student Jazz Musicians is our favorite aspect of True Blue Jazz, and a priority for us. In 2013, True Blue Jazz revived theSaturday Afternoon Free Concert on the Rehoboth Bandstand as a feature venue for the Cape HS Jazz Band….and in 2015, we held our first Jazz Workshop/Clinic, placing our Featured Artist Jazz Players in a mentoring musical exchange with the Cape HS Jazz Band. We continue that as an annual staple of True Blue Jazz Events & Programs.
Our 2018 Jazz Workshop/Clinic will be conducted by Wycliffe Gordon, one of our 2018 True Blue Jazz Fest Headliners. Mr. Gordon will perform on Saturday Night, October 13th on our Main Sage Venue in Downtown Rehoboth Beach, Clear Space Theatre on Baltimore Avenue. There, he will appear leading & performing with the MidAtlantic Jazz Superstar Sextet. Mr.Gordon is one of the nation's foremost music educators, having held positions at Juilliard School of Music, Michigan State University, Manhattan School of Music in the Jazz Arts Program. He currently is Artist in Residence at Georgia Regents University in Augusta, GA.  Wycliffe Gordon is regularly featured as guest faculty, teacher, clinician and conductor for All-State festivals, band clinics, the Louis Armstrong Summer Jazz Camp, the Int'l Trumpet Guild, the Int'l Trombone Festival and countless other high school and university programs and guest appearances.  He is also the Artist in Residence for the third year now with the Louis Armstrong Legacy Project in Chicago. This is a rare treat, and an educational opportunity for our students!
This Event is closed to the Public…open only to Students, Parents, & Music Educators.