Camille Thurman with The Darrell Green Quartet
Friday, October 13 at 9:30 pm

-

10:45 pm

$45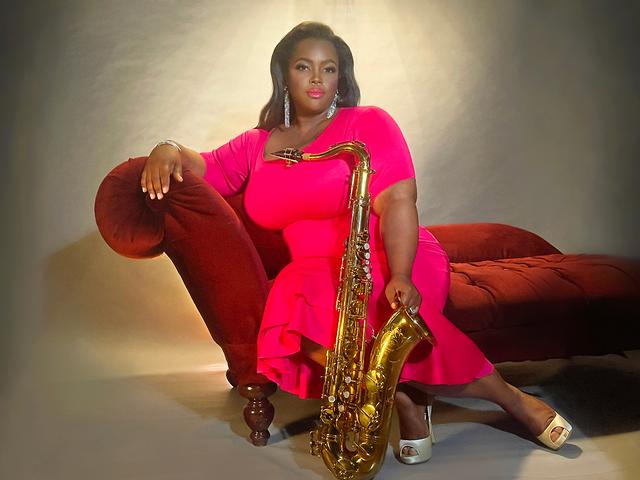 "Imagine if Sarah Vaughan played saxophone like Dexter Gordon. That's approximately the effect when singer and tenor saxophonist Camille Thurman performs" • Downbeat Magazine
Named among the top 25 Performers that could shape Jazz For Decades — Camille Thurman Eager To Give Back To The Jazz Community • 2020 Downbeat Magazine
Remember the name Camille Thurman. As an accomplished composer, esteemed saxophonist, vocalist, and unique interpreter of the jazz tradition, she is quickly becoming one of the leading standard bearers of the art form, making a considerable and dynamic contribution to the legacy of jazz while paying tribute to its heroes. Camille is known for her distinct musical approach to classic and original repertoire that highlights her skill as both a powerhouse singer and instrumentalist.
The New York City native has amassed several distinctive honors for her musicianship: NAACP Image Award Nominee for Outstanding Jazz Album, recipient of the SOUTH Arts Creative Jazz Road Artistic Residency, Downbeat Magazine's Critics Poll Nominee for Rising Star Tenor Saxophonist and Vocalist (2022, 2021 & 2020), 2022 Jazz Journalist Association Nominee for Tenor Saxophone, two-time winner of the ASCAP Herb Alpert Young Jazz Composers Award, a recipient of the Fulbright Scholars Cultural Ambassador Grant and Chamber Music of America Performance Plus Grant (Sponsored by the Doris Duke Charitable Foundation) among others. Thurman also has four full-length recordings as a leader to her credit. Her most recent project "Fortitude" is a collaboration with master drummer Darrell Green and his quartet.
Thurman was the first woman in 30 years to tour and perform full-time internationally with the world-renowned Jazz at Lincoln Center Orchestra as a saxophonist/woodwind doubler (2018-2020 season). A respected bandleader, she has headlined numerous notable concert venues and jazz festivals around the world including the Kennedy Center and Alice Tully Hall.
Thurman was chosen by the U.S. State Department under the Fulbright Scholarship grant to tour and perform in Paraguay and Nicaragua as a bandleader. She was recently selected by American Music Abroad and the U.S. State Department to tour and perform in Africa as a U.S. Cultural Ambassador; Cameroon, Mozambique, Nigeria, Senegal, and Mauritania. In May of 2020, Camille created and founded "The Haven Hang: Young Lioness Musician Q&A/ Virtual Mentorship Series". The Haven Hang serves as a virtual mentorship series for young women musicians, with an initiative to mentor, share advice and support young women pursuing careers in music and the performing arts. Currently, she is an Assistant Professor of Jazz Performance at McGill University.
Returning to True Blue Jazz after her early career appearance in 2014, Camille Thurman is no longer a 'Risng Star' to watch out for…she is a bonafide & respected Jazz Artist, Bandleader, and Music Educator. And like all of this distinctive & elite group of Jazz Contemporaries that Camille Thurman now belongs to….she must be seen, heard and appreciated in a Live Concert forum. Don't miss your opportunity to catch her Show!!!