Chavis•Knoettner•Swanson•Thomas
Thursday, October 13, 2016 at 7:30 pm

-

8:45 pm

$22.50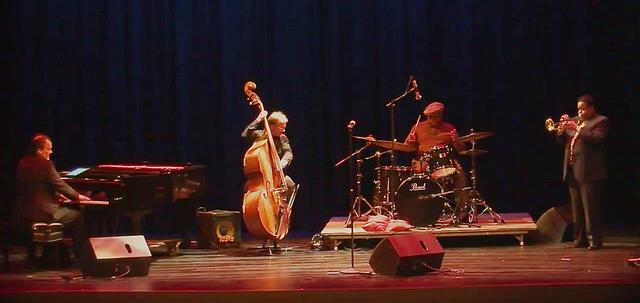 Whether taking the stage as bandleaders or sidemen, booked on a recording session, appearing at area Festivals, or standing before student musicians in a workshop as jazz educators…these musicians seem to leap to a higher form of energy and output when these four gentlemen of jazz come together for a night of music.
Gerald Chavis, a dominant Trumpet Player on the Delaware Valley Jazz landscape for 30 years, was named "Best Jazz Artist" by the Delaware Valley Reader's Music Poll for the release of his second CD entitled "It's A 'G' Thang". He is an Individual Artist Fellowship Award Recipient from the Delaware State Division of the Arts. His credits include performing and/or recording with such national acts as Mick Jagger, Phyllis Hyman, Donald Byrd, The Temptations, The Dells, and The Spinners, as well as local Delaware organizations including Opera Delaware, Christina Cultural Arts Center, and others. He is a staff musician at St. Paul's Baptist Church in West Chester, PA., and is Director for the Wilmington Youth Jazz Band.
Jeff Knoettner is the "piano players' player". Jeff's jazz base is drawn from his Berklee College degree in Piano Performance. His improv work on piano takes you somewhere…and it is someplace really enjoyable. Knoettner has performed or recorded with The Clef Club Players, Arpeggio Jazz Ensemble, Roger Alderidge, The Tymes, Tino Gonzales Band, (which has opened for blues legends Buddy Guy, Charlie Musselwhite, and B.B. King), Doc Gibbs (percussionist for Anita Baker, Whitney Houston, Bob James, and Grover Washington). Appearing on Piano or the Hammond B3 Organ, from the New York State Blues Festival to The Clifford Brown Jazz Festival, from a Jazz Vespers gig to the Cartoon Christmas Trio…Jeff Knoettner is performing at a level that musicians everywhere aspire to.
Rob Swanson prolifically displays an eclectic range of musical stylings on electric, upright, vocals, and composition. Rob is a Philly Magazine "Best Of Philly" Award Winner and a graduate of the prestigious West Chester School of Music. As well as playing full time, Rob is an active music educator going on three decades of instruction with a wide range of age groups. Robs' vehicle for his original music, The Terra Soul Project, has recorded two acclaimed CDs. He is founder of The Cartoon Christmas Trio, a trio dedicated to the great cartoon music of the holiday season. He is a regular bass player with Siora, Klingon Klez, and the award winning group, the Don Eaton Band.
An extraordinarily versatile drummer, Webb has made quite a name for himself locally, nationally and abroad. He leads several of his own bands including "Webb T'S Fleet" & his latest, Webb Thomas' Super Group. His group "Webb T's Fleet" has received rave reviews at the Mellon Jazz Fest and the Cape May Jazz Fest. He has appeared with Doug Carn, David 'Fathead' Newman, Jane Bunnett and the Spirits of Havana and most recently with 'Mr. Killer Joe' himself – Benny Golson.