Libby York Trio
Saturday, October 14 at 6:00 pm

-

7:15 pm

$35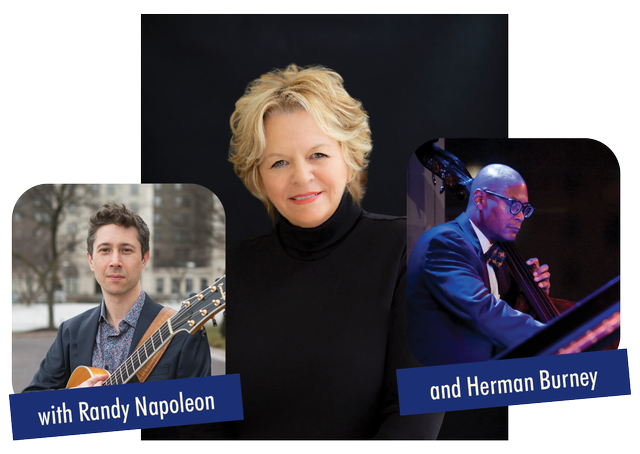 "Vocalist Libby York and guitarist Randy Napoleon celebrate their new critically acclaimed album "DreamLand" (Origin Records) 4 1/2 Stars • Downbeat
"York's voice is in splendid shape, but it's the vigor and judgement of her storytelling that makes this one rather special." • Downbeat
"…an outrageously classic elegant opus…a coup de coeur" • ParisMove
"DreamLand is one of York's finest hours on record" • Scott Yanow LA Jazz Scene
With her 5th Album, "Dreamland" released as 2022 faded into '23…Libby York is subtlely, eloquently, & quite commandingly becoming a forceful presence as a Vocal Artist on our contemporary Jazz Scene. What's more she's doing it with style…projecting a personna that wins over Jazz musicians as accompanyists, along with audiences who are craving Jazz delivered in a tastefully informed manner. Whether Libby is revisiting the the familiar among the Standards, sharing a tune by dusting off a deeper track, or bringing a long untouched gem to her playlist…she offers it up like a good friend telling her secret. And the crowds lover her for this most approachaable manner from a performer.
Libby York is joined for her Headline Appearance in the 11th Annual True Blue Jazz Festival in Rehoboth Beach Delaware by a stellar, and most accomplished Duo of Jazz Musicians (Artists in their own right), Guitarist Randy Napoleon & Bassist Herman Burney. These two very tenured, in-demand players will provide with the power & dexterity to travel musically on her emotional arc as she performs a Show Set specially selected for this "up close & personal" Concert Event with True Blue Jazz.
Find yourself in our Showroom for Libby & friends, Randy Napoleon & Herman Burney…as she takes you into her heart & mind, interpreting the songwriting & tunes she has embraced…ready to bring them to you with the hope & confidence to have you love these songs too!
Come! Sit, Listen, Enjoy & Love…what Libby York does with a song. Saturday, October 14th in our most intimate Showroom Venue in The Boardwalk Plaza Hotel, overlooking the Coastal Delawares' view of the Atlantic Ocean!