The Cookers
Friday, October 14, 2022 at 9:30 pm

-

10:45 pm

$55
After fourteen years together, The Cookers, who "embody the serious-as-death commitment that it took to thrive on the New York scene some four decades ago" (Andrew Gilbert, The Boston Globe), recently released their sixth album, Look Out!, the follow up album to their five critically-acclaimed recordings, Warriors, Cast The First Stone, Believe, Time and Time Again and The Call of the Wild and Peaceful Heart. On Look Out! again the incredibly high level of musicianship has only increased with the latest offering of fresh, challenging, boundary-pushing music from these legendary, revered, veteran improvisers.
Each member of the Cookers has spent time leading his own series of groups as well, and each has a keenly individual sound. But it's the unmistakable power of teamwork that makes this music so commanding and resonates with a kind of depth and beauty that speaks of the seasoned track record of its principals (combined, the group has over 250 years of experience in the jazz world and has been a part of over 1,000 recordings). You can feel the collective weight of that experience in their CDs and especially in their live performances. Since this version of the band was solidified in 2007 the group has performed at venues around the world, including headlining the Newport Jazz Festival, New Orleans Jazz Fest, Playboy Jazz Festival, Vancouver Jazz Festival, Umbria Jazz Festival, Northsea Jazz Festival, Jazz a Vienne, London Jazz Festival, San Sebastein Jazz Festival, Detroit Jazz Festival, Chicago Jazz Festival, Portland Jazz Festival, San Jose Jazz Festival, The Jerusalem Jazz Festival, The Guinness Cork Jazz Festival, The Charlie Parker Jazz Festival, Jazz in Marciac, The Burghausen Jazz Festival, Jazz Terrassa, The Healdsburg Jazz Festival, Jazz Viersen, Ronnie Scott's, SF Jazz, Dizzy's Club Coca Cola and Yoshi's.
David Weiss and Donald Harrison, from a more recent generation and the youngest members of the band, are experts in this forthright, yet unspoken language that is Jazz, gaining their experiences performing with Art Blakey, Bobby Hutcherson, Freddie Hubbard, Charles Tolliver, Roy Haynes and Herbie Hancock.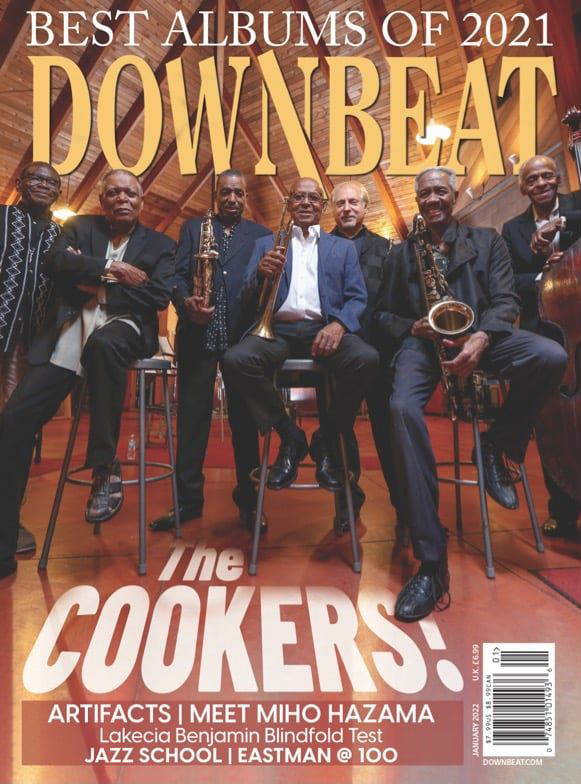 Rounding out this bonafide 'Super Group' roster is Billy Harper, Cecil McBee, George Cables, Eddie Henderson, and Billy Hart….all coming up in the heady era of the mid '60s. It was a period that found the dimensions of hard bop morphing from their original designs, and each of these guys helped facilitate the process as members of some of the most important bands of the era. Hart and Henderson were members of Herbie Hancock's groundbreaking Mwandishi group; Cecil McBee anchored Charles Lloyd's great '60s quartet alongside Keith Jarrett and Jack DeJohnette; Billy Harper was part of Lee Morgan's last group, as well as being a member of Max Roach's Quartet and Art Blakey and the Jazz Messengers; while George Cables held down the piano chair in numerous bands including groups led by Sonny Rollins, Joe Henderson, Freddie Hubbard, Dexter Gordon and Art Pepper.
This will be one of the All Time Great Concerts to ever grace our True Blue Jazz Headliner Stage!!! Don't Miss your chance to See & Hear this assembly of powerhouse Jazz in this exciting all-star septet. As NEA Jazz Master Jimmy Heath stated in his Autobio Book Title, "I Walked With Giants"…these Jazz Musicians have certainly done just that! Their performance mastery summons up the aggressive mid '60s spirit of jazz with a potent mix of expansive post-bop original compositions, marked by all the requisite killer instincts and pyrotechnic playing expected of some of the heaviest hitters on the scene then, & now! Be In The Room for this Show folks!!!
This Special 10th Anniversary Concert is presented as only the True Blue Jazz Festival can…in our most intimate Showroom at The Boardwalk Plaza Hotel in Rehoboth Beach DE on Friday, October 14th for 2 Shows, 730pm & 930pm. Limited Seating available.
Reserve NOW!!! All Tickets are Sold as General Admission.