The Fred Hughes Trio w/Camille Thurman
Wednesday, October 15, 2014 at 7:30 pm

-

10:30 pm

$22.50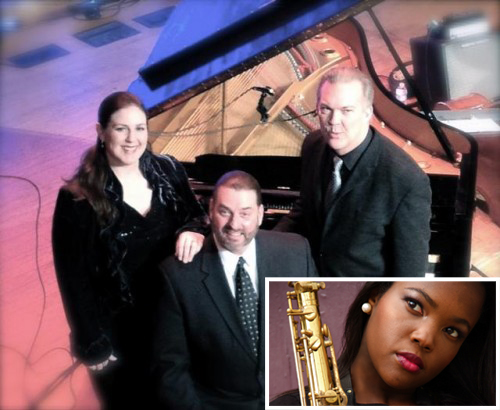 The Fred Hughes Trio featuring the extraordinary Sax & Vocalist, Miss Camille Thurman DON'T MISS our Opening Night of the 2014 TRUE BLUE JAZZ SERIES in Downtown Rehoboth Beach DE!!!
"a first class saxophonist that blows the roof off the place and an accomplished stylist who uses her vocal chords like she does her various woodwinds, with agility & sophistication…" – Harry Attarain, ALL ABOUT JAZZ"female powerhouse instrumentalist, the up and coming, immensely talented triple-threat, multi- instrumentalist…" – Raymond Nat Turner / UPSURGE Jazz Piano Master, Fred Hughes, returns to Rehoboth Beach for 2014's TRUE BLUE JAZZ SERIES accompanied by his very skilled & talented sidekicks, Amy Shook on the Upright Bass & Frank Russo on Drums.  
This Fred Hughes Trio has logged numerous musical miles together and continues to deliver fiercely imaginative performances at every outing. The threesome are consummate Jazz Pros that are constantly at work, "workin' a gig" or just workin' it in rehearsal to elevate their very personal Art Form…JAZZ. And on that quest for the best, they are fearless in their exploration of the genre, as well as in melding the Trio with other great Players & Vocalists encountered.
Composer, Conductor, Music Director, & Pianist Fred Hughes has national reputation and respect from peers & audiences alike. A fixture at Jazz Festivals & Jazz Rooms around our region & beyond…his visit here this Fall for TRUE BLUE JAZZ brings an emerging talent that is energizing Jazz Fans with her performance as a Singer & Sax Player. Camille Thurman will be the Featured Guest Artist with The Fred Hughes Trio in their appearance in The TRUE BLUE JAZZ SERIES on Wednesday, October 15th…Showtime 730p-1030p.
Doors Open 530p / Dinner Seating 6p-730p / Showtime 730p-1030p
If you are interested in purchasing tickets to this event, please click here.