The Paul Carr Quartet featuring Jamie Davis
Friday, October 13, 2017 at 7:30 pm

-

8:45 pm

$50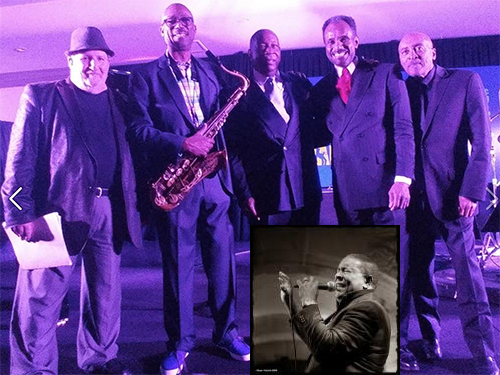 "…Jamie Davis is one of my favorite singers."
– Clint Eastwood, inspired by his performance at the Monterey Jazz Festival
"A proper singer of real talent and style. He can sing blues and ballads to the manner born and boy, does he swing. A must for any lovers of great music."
-Sir Michael Parkinson – BBC and iTV Broadcaster, Journalist, British Chat Show Host.
"Paul Carr plumbs post-bop in his debut with a tart tone that darts and swings on neck-breaking tempos, yet turns deliciously dynamic on ballads…"
–USA Today (3 Stars)
Growing up in Texas, Paul Carr studied and played with local heroes including saxophonist Don Wilkerson, the fabled educator Conrad Johnson, and the legendary Arnett Cobb. He studied on a full scholarship at Texas Southern University and completed his degree in music performance at Howard University in Washington, DC.  Paul has since been a fixture in the DC area performing on the local scene at venues including Blues Alley, Twins Jazz, Takoma Station, and the now-defunct (but once vibrant) One Step Down. Carr has been a repeat performer at The John F. Kennedy Center for the Performing Arts, the Smithsonian Jazz Café, and the Corcoran Gallery of Art's jazz series. Known for his hard-charging and soulful post-bop style, saxophonist Paul Carr upholds an important tradition as a performing Artist, as a Music Educator and Excutive Director for the Jazz Academy of Music, and as Artistic Director for Mid-Atlantic Jazz Festival. Paul & his Quartet will delve further into the Jazz Standards, Ballads, & Jump Blues catalogue that has proven to be a crowd pleaser for them, along with their featured West Coast based Vocalist, Mr. Jamie Davis.
Singer Jamie Davis holds a position amongst the pantheon of great male vocalists with a compelling full deep, baritone voice and passion for his craft that leaves his audiences uplifted and "feelin' good… really good".  With a voice poured from the same mold that brought us Billy Eckstine, Johnny Hartman & Lou Rawls….a move to San Francisco created opportunities for Jamie Davis to perform with Milt Jackson, Eddie Henderson, Melba Moore and Pharaoh Saunders. The year 2000 brought exhilarating performances with The Count Basie Orchestra. On that experience Davis reflects, "Having all that sound behind you is just amazing. You've got to ride that current."  A repertoire from Cole Porter to Stevie Wonder to Charles Mingus, confirms he possesses the flexibility and sexy sophistication by his effortless delivery to stand with any of the great masters. Jamie Davis has been described as a fine wine which has stood the test of time, constantly innovating jazz classics, 'rolling out' the blues and performing with one foot in the past and the other in 'today'.