Eddie Sherman, Peggy Raley + Terell Stafford & Jerry Weldon
Sunday, October 15 at 1:00 pm

-

3:45 pm

$75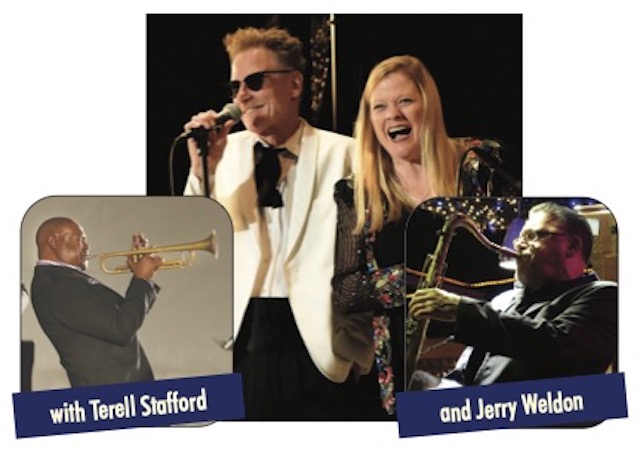 April 30, 2021 • True Blue Jazz Festival & Founders, Peggy Raley & Eddie Sherman were given the CLIFFORD BROWN JAZZ AWARD for "TOP JAZZ PRESENTERS OF THE YEAR " by Cityfest & The City of Wilmington DE
"One of the great players of our time…a fabulous Trumpet Player." • McCoy Tyner on Terell Stafford
"Jerry Weldon is one of today's leading proponents of Soul Jazz who represents the 'bar-walkin', hard-blowing, tenor legends in our contemporary American Jazz scene." • Gary Walker, WBGO Radio
When opportunity knocks…say "YES"…& then open the door!!! Peggy & I were blessed to be invited to attend Joey D's 'Celebration of Life' at Phillys' Clef Club this Spring. The music & the spirit in that room was incredible. We had the good fortune to hear & meet a couple of the Greats working out there on the REAL JAZZ Scene today…both World Class & Internationally acclaimed…I'm talkin' about the Tenor Sax Showman, Jerry Weldon & awesome Trumpeter, Terell Stafford. Hearing them both perform in a Classic Organ Trio Set honoring their fellow Jazz Artist, Joey DeFrancesco…& then, with them both together again with Terell's Temple University Jazz Big Band…Peggy & I were blown outta our shoes! And of course, once introduced & losing all restraint, we invited them to join us for this October in our upcoming 2023 True Blue Jazz Festival. And…. turns out their as crazy as we are!!!
Revered among the community of Jazz Artists & Musicians…Tenor Saxman, Jerry Weldon…along with Trumpeter, Terell Stafford are Special Guest Performers with Eddie Sherman & Peggy Raley; backed by an All-Star "Off The Hook" roster of premier Philadelphia area & beyond Jazz Players. Each one respected for their skills & artistry as Jazz Musicians & Educators….this Group wil be featuring…. on Piano, Tim Brey…with Bassist, Sam Harris…& Drummer, Vince Ector.
It's a Blockbuster Show Event that you don't want to miss! 2023's 11th Annual True Blue Jazz Festival Closing Brunch Bash…the biggest "Closer" EVER!!!

That's One Show Only • Sunday October 15th; Doors Open 1pm & Show Time 2:15pm-3:45pm!!! Ticket Includes Brunch, N/A Beverages & Gratuity • Available only at www.truebluejazz.org
Showroom Venue • The Boardwalk Plaza Hotel, located on the Boardwalk in Rehoboth Beach DE…at 2 Olive Avenue overlooking the Atlantic Ocean!!!
BE IN THIS ROOM FOR THIS UNFORGETTABLE SHOW!!! GET YOUR TICKETS NOW!!!